Beginning of MFD
This page shows a brief history of my activities in folk dances, for more detailed information you can ask for my CV or contact me directly.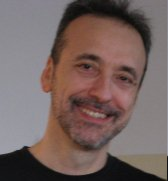 My name is Leo Rosina, I started doing folk dances in Spinea (Venice) at "Polisportiva Aurora" in 1992;
Since 1994, I began to attend refresher courses of folk dances in Italy and abroad, and in 1995 I began teaching in the "Polisportiva". Then with some friends we founded the ethnic dances group "Archè".
From 1996 to 2010 I taught Israeli dances in the "Shir Halayla" group of "Tencarola" (Padua). Since 2010 I'm teaching Israeli dances in the new group "Yachad", in Tencarola as well.
Since 1998 I teach international folk dances at "Nicholas Saba" association in "Mestre" (Venice).
Since 2007 I teach international folk dances in other groups that perform their activities in Venice and Treviso provinces.
Since 1998 I started keeping folk dance workshops at schools, especially in nursery, primary and secondary schools.
Now, I teach folk dances and this is my job so, I am available to do folk dances workshops all over the world.
In addition to dance, I am interested in folk music, I play accordion, guitar and flute. Between 2006 and 2007 I attended an accordion master class with Victor Sasu, the director of the Music School "Igor Stravinsky" in SPINEA (Venice).
To manage all these activities, I decided to create in 2001 the "MusicFolkDance" association.
For all the people, groups or folk dance associations interested in having more information, there is my
Curriculum Vitae
or if you prefer, you can contact me by phone or email.